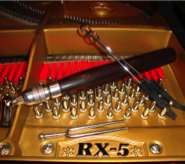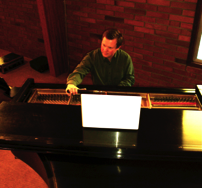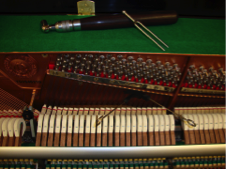 Over the last 300 years there have been different standards in the tuning pitch of pianos. Kelly's Piano Service tunes pianos to today's industry standard of A-440hz. We use a combination of aural tuning techniques and computerized tuning software to achieve the highest tuning accuracy and quality. With temperature and humidity changes that occur over a six month to one year period a piano goes out of tune. If a piano has gone 4-5 years or more the piano will go flat to the point of needing a pitch raise. A pitch raise is a rough tuning to get the piano back up to pitch and reset the string tention. After this has been completed, then the regular tuning can be done. There are times it is not possible to achieve A-440 due to the age of piano wire in 100+ year old instruments. For a piano in this situation restringing is needed to achieve standard pitch. If it is not financially possible for the customer the piano can be tuned to itself.
Tuning is $130 for Bellingham and most areas of Whatcom county.
Pitch raise $65
Like most self-employed service professionals, I must regrettably charge a fee for late cancellations (less than 24 hours notice) and appointments where the client fails to be there at the agreed time. In all such cases, a fee of $50 must be received before I can schedule a new appointment.